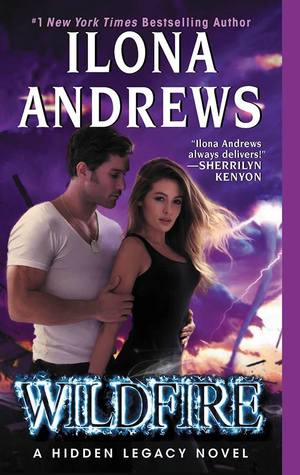 Series: Hidden Legacy, #3
Publisher: Avon
Released: July 25th 2017
Length: 391 pages
Source: Publisher for review
Buy: Amazon
Just when Nevada Baylor has finally come to accept the depths of her magical powers, she also realizes she's fallen in love. Connor "Mad" Rogan is in many ways her equal when it comes to magic, but she's completely out of her elements when it comes to her feelings for him. To make matters more complicated, an old flame comes back into Rogan's life…

Rogan knows there's nothing between him and his ex-fiance, Rynda Sherwood. But as Nevada begins to learn more about her past, her power, and her potential future, he knows she will be faced with choices she never dreamed of and the promise of a life spent without him.

As Nevada and Rogan race to discover the whereabouts of Rynda's kidnapped husband and are forced to confront Nevada's grandmother, who may or may not have evil motives, these two people must decide if they can trust in each other or allow everything to go up in smoke.
Wildfire, the latest (and hopefully not last) book in Ilona Andrews' Hidden Legacy series has been out for about a month and it has already proven to be an enormous success. It debuted on New York Times' and USA Today's bestsellers lists and it's been getting nothing but gushing reviews from both professional reviewers and fans. However, it's likely that you already knew all that. What you perhaps didn't know is that I consider Wildfire to be one of the best books this extraordinary pair has ever written, and one of the best urban fantasy works in general.
Wildfire picks up exactly where White Hot left off, with Nevada and Rogan back from their brief escape. Their vacation is cut short by Nevada's grandmother, a merciless, dangerous prime who'll stop at nothing to save her family name. Nevada's mother doesn't agree with her choices, which is yet another hurdle she must overcome. Nevada fights battles on all sides, but she has allies to help her navigate the perilous world of primes.
The colorful Baylor family finally comes into the spotlight. They all fight for their freedom in Wildfire, and they all use their magic. It's hard to choose favorites, they are all fully fleshed out and so very interesting. I noticed some potential for a spin off with Catalina and a certain Italian gentleman, and I'll keep my fingers crossed for that in the future.
Aside from the family issues, Rogan's ex-fiancé shows up on their doorstep asking for help, and while it sounds like a recipe for disaster, things don't go as one would assume. Ilona and Gordon don't do romantic drama if they can avoid it, and they usually manage to avoid it just fine. I appreciated the true partnership between Nevada and Rogan, their mutual understanding and communication. They stuck together even when they disagreed, which wasn't all that often to begin with. I love couples that are true teams, and Ilona Andrews just hits the right note for me every time.
After the initial success of Wildfire, I have no doubt that more books will be coming. They wisely left some things open, more than enough to intrigue readers. Whatever their plan for future installments, we have more fabulous books ahead of us, and that's reason enough to celebrate.
A copy of this book was kindly provided by the publisher for review purposes. No considerations, monetary or otherwise, have influenced the opinions expressed in this review.